Starting any business is easy, keeping it going well and growing it to new heights is altogether a different game. When a business is at its initial stage it is very easy to manage team, operations, clients, sales, finance, etc. but when a business grows it all brings other complexities like large data, number of clients, employee details, sales figures etc. So how will you deal with these increased complexities?
The answer is "Good Business Management Software". With ever increasing competition and advancement in technologies it makes sense to have a good management software to automate the operations to improve productivity, efficiency and work faster.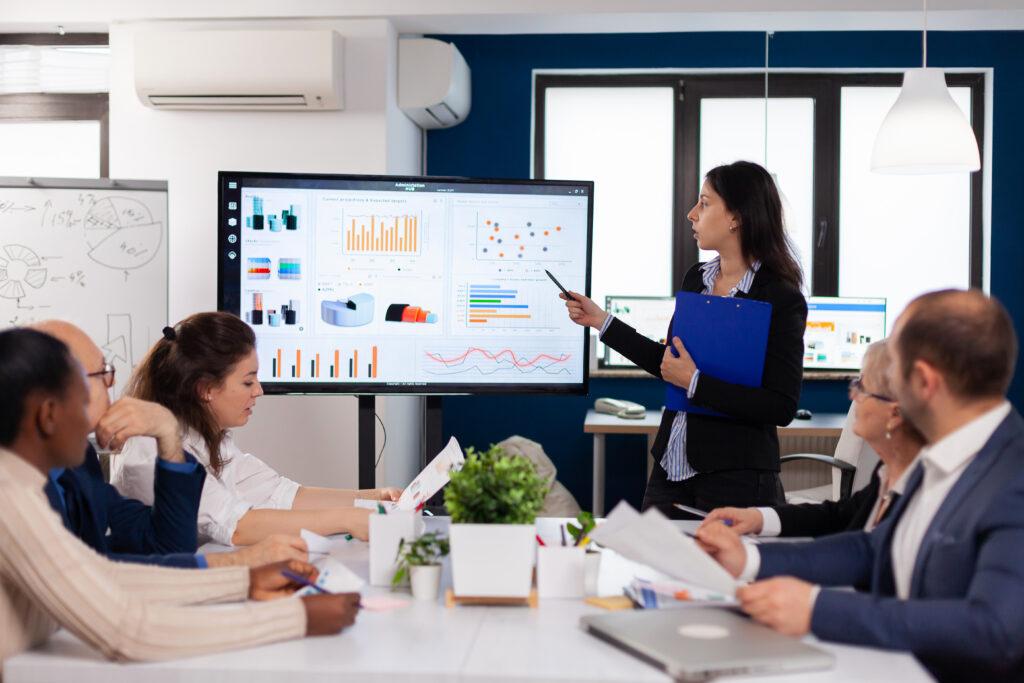 What is business management software?
As the name implies, business management software is a tool or a system or an application designed to help or support companies by improving, managing and automating their work processes. A great business management software helps a company by doing many repetitive tasks by itself. Which eventually leads to better customer service, business growth and customer loyalty. In simple words, it makes business easy!
There must be many questions in your mind like what it really does? Is it worth it to invest in it? Will it improve the performance of employees? How to figure out the right business management software for my company and many more. The answer to all these questions will be answered in this article.
Benefits of a good business management software
Every business needs powerful, multidimensional software which can make the work processes faster, easier and efficient. Following are some of the benefits which business management software offers:
It helps to organize all business related information and data like customer details, sales records, employee details and other key information. Well organized and easy accessible data not only saves time but also improves productivity.
It helps to automate mundane and time consuming activities which results in reduction in manual work, errors and other business complexities.
It improves team performance because now teams can invest their valuable time into activities like planning, executing and keeping track of processes and most important business growth.
As it allows to automate processes it reduces the need of more employees.
It saves time and money.
It brings ease and simplicity to work which reduces in decreased working hours.
All data related to project management, sales, marketing, customer support is available through a centralized database thus it improves coordination and communication between team members.
All you need is a good internet connection and you can connect with your team members anytime, anywhere. So it gives flexibility to work from any location.
Best business management software has a high return of investment (ROI).
It helps to grow business faster.
Features of a good business management software
Before selecting any business management software, it is important to know the top features which must be present in it to scale and smooth the business operations. We have listed down some of the top features of a good business management software which will certainly help you in selecting the best one for you.
Data Security: Data is one of the key assets of any business. To handle tons of data with safety and security is one of the prime features of any business management software. It includes software with strict safety protocol, multi level authentication, email login verification etc. to ensure the safety and security of business data.
Clutter free user experience: The user interface of business management software must be clean, clear and easy to understand. A good UI (user interface) should not confuse users, it must ensure that the user sees what he or she wants to at the time of working.
Efficient progress tracking: A business has multiple departments working simultaneously. So, a business management software should have a mechanism to track the progress of all departments. It can be done by using progress charts, leader boards etc.
Smart accessible data: Smart and ease of data access is very crucial for all business operations. A readily available data will help team members to work faster and make prompt business decisions.
Business management software category
There are a variety of business management software available depending upon the sector and requirement. We have listed out some of the categories of business management software, have a look.
Problem to the business without management software
It's easy to handle all business operations when you are in the initial stages of business building. But when your business grows rapidly, it becomes difficult to keep track of all the processes systematically. There are several problems that businesses face without any management softwares. Some of them are mentioned below.
To manage all the tasks within an organization is a tedious job. Most of the companies face the issue of their task management. If you don't have software to manage your business, you will not be able to manage your task properly.
Without business management software, time management problems also occur. Some companies still follow a manual approach of data collection. Sending messages or mail or creating records become a bit complicated and will slow down your business.
Without Management software you cannot provide your services on time which eventually leads to dissatisfied customers. You cannot keep track of old customers, new customers and repeated customers.
Without management software it is difficult to track the progress of each department within the organization which eventually leads to poor performance.
It will be difficult to have proper coordination, cooperation and communication between team members which will lead to miscommunication and hinders the growth of projects undertaken.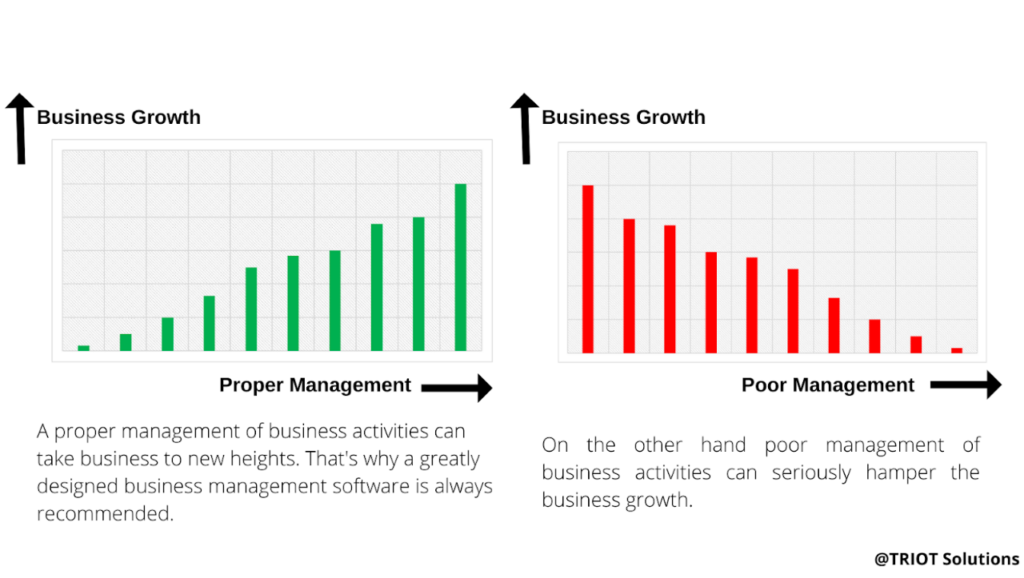 When is the best time to get business management software
In initial building stages of business you can go without business management software but when your work starts increasing, when your team starts building then you should definitely consider having a great business management software. It will make you work faster and you'll be able to focus on other productive things. New startups can also start using business management software to increase their growth. It is not expenditure but an investment which will give you a high rate of return in terms of productivity, efficiency, time saving, quality and improved performance.
How business management software helps in business growth?
Every Business owner is always looking for ways to increase their productivity and efficiency. It is possible to integrate all work processes of your company in a single customized software. With the help of software you can easily keep track of project progress along with that you can also calculate project completion time. This software can be used for efficient data collection, communication and task allotment. Employees can update their work on software which can be easily accessed by business owner. Progress of every individual employee, departments, sales, marketing etc. can be visualized in real time. And the list goes on.
How can TRIOT help?
Are you looking for great business management software to excel your business?
Don't worry TRIOT is here!
After knowing the numerous advantages of business management software, Who doesn't want to invest in having a great business management software to scale up their business to new heights. With ever increasing competition, advancements in technologies and changing market dynamics, no business can afford to lack behind. The right business management software will optimize work processes and save a lot of time which can be utilized in strategic planning, exploring new ideas and working on core projects. Instead of wasting time on mundane activities you can work on executing significant ideas and building business.
TRIOT offers an expertise in customized business management software which will be specifically designed to meet all your business requirements. Our dedicated team provides the best business management software which will help you to elevate your
business by providing ease of operation, saving your time by automatizing the work process, better coordination between team members and a lot more.
Conclusion
Business management software is a tool to tackle all business needs and it is crucial for growth and ease of operation of any business. We have gone through several benefits and features of a good business management software and its impact in improving efficiency of any business. We have also discussed what problems you will face when your business grows and you don't have the right business management software that caters all your business requirements. In order to run a business smoothly, management software is essential.
Do you have something to add to this article? Feel free to comment below.