Introduction
Over the past few decades, the number of objects (things) connected to the internet has grown exponentially. And with the everyday development of technology, the Internet of things (IoT) has penetrated in almost every application area. It has revolutionized the way machines interact and provided cutting-edge solutions to a variety of real-life problems.
As the IoT in itself is a large hood, covering almost every sphere of technology nowadays, we will be focussing our discussion on Narrow Band Internet of Things (NB-IoT) in this article. We will be exploring NB-IoT and how it is impacting the volume of connected devices and IoT connectivity infrastructure.
What all we have already?
In order to connect sparsely deployed IoT devices, the present short range communication technologies like BLE, ZigBee, WiFi are not a viable solution. To get over this limitation, several Wide Area Network (WAN) technologies have been evolved such as LoRaWAN (Long Range WAN), SigFox, LTE-CatM and NB-IoT. Since these technologies are meant for low powered battery operated devices, we name them as Low Power Wide Area Network (LPWAN) technologies. The four key features of LPWAN technologies are Long range, low power consumption, low throughput and low cost. As there are many LPWAN technologies, it's very interesting to see how NB-IoT stands out.
LPWAN provides voice to objects by enabling them to communicate. Consider a dustbin which is full and needs to be emptied. Using LPWAN technology, a dustbin can send a message to the user, "I am full, please empty me", which in turn can ensure timely garbage clearance and avoid periodic manual checks on the other hand.
Where does the problem lie?
Existing cellular infrastructure and internet connectivity is designed keeping the humans at the centre point to fulfil their different data requirements. IoT devices are very small in size and are nascent in the world of human centric data infrastructure and therefore, connecting them directly to the existing internet infrastructure is not feasible.
Traditional cellular standards are not scalable for IoT because they were built with focus on either voice or bandwidth intensive low-latency data applications. And there are other reasons for it, like coverage, device density, cost and power. Gap between short range technologies such as Bluetooth/Zigbee/Wi-Fi and cellular technologies like 3G/4G is filled by NB-IoT. As short range technologies require a gateway to transfer data collected over the internet, NB-IoT has an edge over them by enabling direct internet access to end devices. NB-IoT reduces complexity, caps maximum data rates and limits bandwidth.
Licensed vs Unlicensed LPWAN
As most LPWAN technologies are wireless in nature, they consist of several radio frequency bands. Based on the frequency band allocation LPWAN can be categorized into licensed and unlicensed band technologies.
Licensed band LPWAN technologies use authorised frequencies allocated by a regulatory authority of a country to the cellular service providers. Therefore they are not free to use but are backed by widespread cellular networks which can be used on subscription basis. Use of dedicated frequency spectrum overcomes drawbacks of unlicensed band LPWAN. Licensed band LPWAN technologies are supported and standardized by 3rd Generation Partnership Project (3GPP). It is basically an organisation behind the standardization of cellular systems. It includes technologies like GSM/GPRS, LTE-M and NB-IoT.
Whereas, unlicensed band LPWAN technologies are non 3GPP standards like SigFox, LoRaWAN etc. They use ISM (Industrial, Scientific and Medical) band frequencies which are openly available and free to use for anybody. Due to this fact they are often subjected to security, reliability, overcrowding and interference issues.
NB-IoT vs Other Technologies
NB-IoT has faster response time than LoRa and guarantees better quality of service (QoS) which means that chances to send the message to the intended recipient are much higher as compared to unlicensed band LPWAN technologies. Also licensed LPWAN technologies like NB-IoT offer higher throughput and longer range communication as compared to unlicensed band LPWAN technologies (LoRa, SigFox).
Both LTE-M and NB-IoT are optimised for the requirements of different IoT applications such as smart metering, precision agriculture. residential security etc. But there are certain differences between these two licensed band technologies. NB-IoT offers low bandwidth data rate connections at low cost while LTE-M is optimised for higher data rates and mobile connections. NB-IoT is suitable for all those applications where lower bandwidth, less data, improved battery life, improved range is required.
Below table covers the major differences between popular LPWAN technologies :
Here comes the NB-IoT
Narrow Band Internet of Things (NBIoT) is a Low Power Wide Area Network (LPWAN) radio technology developed by 3GPP. The specification was frozen in 3GPP Release 13 (LTE Advanced Pro), in June 2016.
It has been developed to cater the needs of very small, low resourced and battery operated connected devices which require low data rate communication. This technology enables IoT devices to send their data directly to the cloud network without requiring any gateway for data aggregation.
NB-IoT supports high connection density, wide-area coverage and low power consumption. It is backed by an excellent cellular communication network, which is already widespread. Therefore, NB-IoT stands out as a promising communication technology for connected devices.
As cited by ABI research, "IoT applications that require more frequent communications will be better served by NB-IoT which has no duty cycle limitations operating on the licensed spectrum."
Salient features of NB-IoT
NB-IoT provides enhanced coverage in rural and deep indoor areas. It is good for applications with high device density.
NB-IoT has low power consumption. Battery life is more than 10 years for a wide range of use cases. Thus, it improves efficient power consumption, system capacity, and spectrum efficiency.
Low latency.
High sensitivity.
NB-IoT is low-cost technology.
NB-IoT offers massive connectivity. It can co-exist with 2G, 3G, and 4G mobile networks.
Physical features of NB-IoT
Some of the physical features of NB-IoT are mentioned in the following table: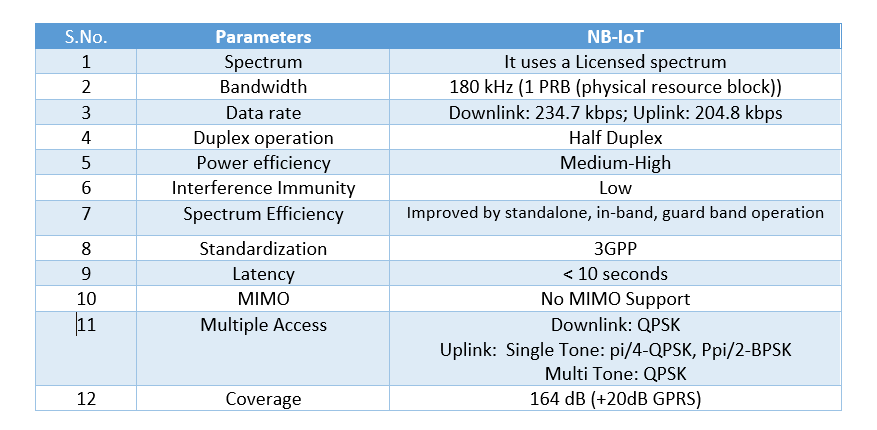 NB-IoT deployment
NB-IoT can be deployed in three ways:
Independent Deployment (stand-alone mode)
Guard Band Deployment (Guard-band mode)
In-Band Deployment (In-band mode)
Is it power efficient?
Half-Duplex:
As NB-IoT supports half-duplex transmission, only one transceiver is required for both uplink and downlink, unlike LTE which contains two transceivers one for each mode. As it uses a single transmitter, the RF unit consumes less power making it power efficient and eventually resulting in a lower cost.
Less Transmission Power:
NB-IoT uses only one antenna, regardless of the regulation for using two antennas, simplifying the implementation as well. By reducing the user equipment calculation capability, the protocol volume is simplified. This simplifies the circuitry, resulting in a more cost-effective chipset.
Power saving mode (PSM):
With PSM, devices can go into deep sleep for upto 12.1 days after the device is registered with the network. Whenever required devices can wake up to track area updates and send data which allows saving power.
Discontinuous Reception (DRX):
With DRX , devices need not to monitor control channels most of the time. In addition, eDRX (extended DRX) has been added in Release 13 of 3GPP standard, which further extends the sleep cycle of the terminal in idle mode and reduces unnecessary cell startup.
Note: Power saving mode (PSM) and Discontinuous Reception (DRX) are introduced by Release 12 for lowering power requirements.
Is it cost effective?
Since SigFox and LoRa are unlicensed LPWAN technologies, their cost is automatically reduced because of the freely available ISM band. However this is not the case with NB-IoT because it uses a dedicated licensed frequency spectrum thus it becomes important for NB-IoT to keep its cost low in order to survive in the competitive market. When NB-IoT is deployed in in-band mode, the installation cost is lower than that of LoRa.
NB-IoT uses a simplified hardware mechanism which can connect upto 1000 end devices with 1 base station. It uses already existing cellular infrastructure which aids in minimizing the cost of deployment.
As NB-IoT is similar to the legacy LTE, it is very complex to reduce the costs. However, to minimise the cost, it is necessary to trade-off the performance of the system and simplify the protocol implementation.
Applications of NB-IoT
There is a variety of applications for this exciting technology, some of them are mentioned as follows:
Smart cities (streetlights, parking, waste management etc.)
Land/Agriculture and environment monitoring
Pollution monitoring
Animal Tracking
Smart metering (electricity, water, gas)
Facility management services
Connected Industrial appliances
Applications where sensors are installed in remote locations, with limited mobility and run on battery to send small amounts of data occasionally are benefitted by NB-IoT Technology.
Some success stories in the field of NB-IoT
Telecom operators are always looking at effective implementation of IoT and IoT related other technologies to transform their business models and to build revenue generation opportunities. During the forecast period from 2022 to 2027, the global IoT market is expected to register a compound annual growth rate (CAGR) of 10.53%. Also, the NB-IoT chipset market is expected to grow to USD 2,484 million by 2025 at a CAGR of 40.0%.
There are several fueling factors in the growth of NB-IoT chipset market, some of them are:
Exponential rise in the use of connected devices.
Increasing participation of industry players in the development of NB-IoT.
Active participation of startups in IoT and its sub-fields.
Widening applications of NB-IoT technology.
Growing acceptance of IoT.
Ever increasing demand for wearable devices due to COVID-19 outbreak.
Key market players in the NB-IoT world
There are many industry players in the NB-IoT chipset market, some of them are mentioned below:
Huawei (China)
Samsung (South Korea)
Sequans Communications (France)
MediaTek (Taiwan)
Nordic Semiconductor (Norway)
Altair Semiconductor (Sony Group Company) (Israel)
Cheerzing (China)
Sercomm (Taiwan)
SIMCom (China)
Sierra Wireless (Canada)
u-blox (Switzerland)
ZTE (China)
RDA (China)
Qualcomm (US)
The market has seen active participation of many start-ups. Riot Micro (Canada) and Commsolid (A Goodix Company) (Germany) are few of the emerging startups in the market.
Key Indian market players
India is one of the largest NB-IoT markets in the world. There are also many Indian industries that are very interested in reaping the benefits that NB-IoT offers. Some of the leading Indian companies are as follows:
Bharti Airtel
Vodafone India
Reliance Jio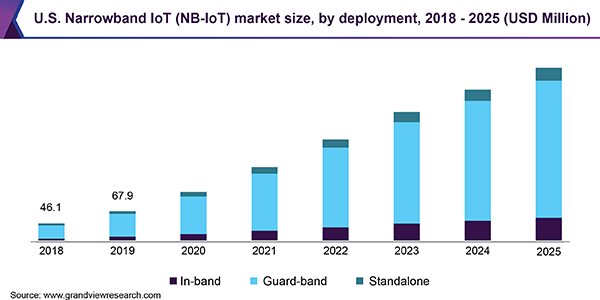 Drawbacks of NB-IoT
Every coin has two sides, so does NB-IoT. Although NB-IoT presents many advantages that are in line with IoT applications, there are still issues that need to be addressed such as:
Some design specifications of NB-IoT makes it hard to send larger amounts of data to the device.
It is difficult to implement firmware updates over the air.
NB-IoT is suitable for fixed location rather than roaming assets because of network and tower handoff.
"Want to develop IoT enabled smart device? TRIOT's mission to develop custom IoT solution as per requirement with seamless connectivity, security, scalability and cost effectiveness. TRIOT is set to empower IoT product. Contact us for free consultation".
Conclusion
There are several benefits of NB-IoT and many of them we have read above. With the number of increasing connected devices and wide spread opportunities available in different application areas the use of NB-IoT technology will only increase.
Hope you have enjoyed reading and this article has helped you to enhance your knowledge. Do you have any questions or want to add to it please feel free to comment below. We will love to read your comments.
Reference :
Narrowband-IoT Market Size, Share | Global Industry Report, 2019-2025 (grandviewresearch.com)
5G Estimated to Reach 1.5 Billion Subscriptions in 2024 – IoT Business News
3GPP NB-IoT Deployment and Optimization Challenges – VIAVI Perspectives (viavisolutions.com)
Narrowband IoT Market | Global Trends, Size, Share, Analysis 2019- 2027 (inkwoodresearch.com)